Classifications of PLC Splitters
author: liu
2023-03-20
PLC Fiber Optic Splitter can be categorized by the PLC splitter chip they use, meaning there are 1xN and 2xN PLC splitters, such as 1x4 splitter, 1x8 splitter, 1x16 splitter, 2x32 splitter, 2x64 PLC splitters, etc. Users can choose different input and output numbers depending on subscriber conditions or cable length.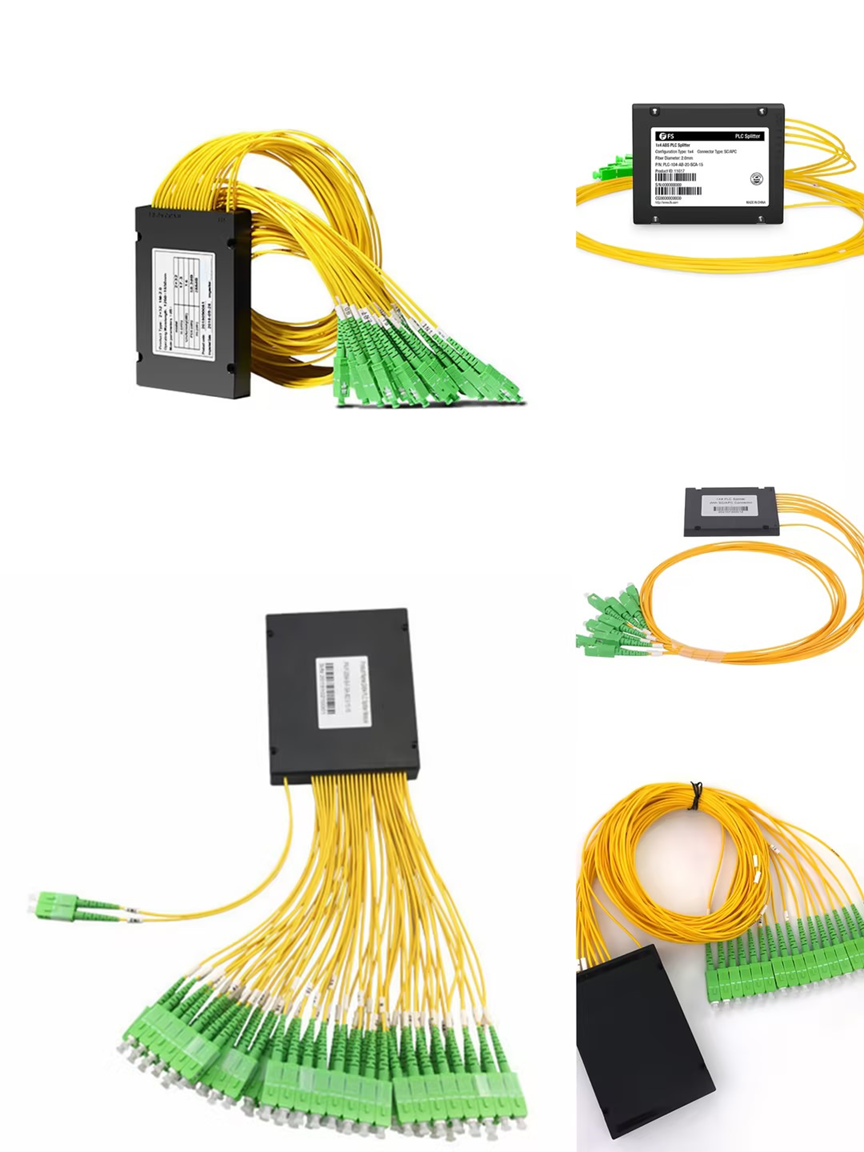 In addition, PLC splitters also can be classified based on different packages to meet clients' needs in various scenarios, including small size PLC splitter that needs to be used in terminal boxes and big size rack mounted PLC splitter that can be installed in racks. There are five types of PLC splitters in the market: Bare Fiber Optical Splitter, Blockless Fiber Splitter, ABS Splitter, LGX Splitter, and Rack-Mount Splitter.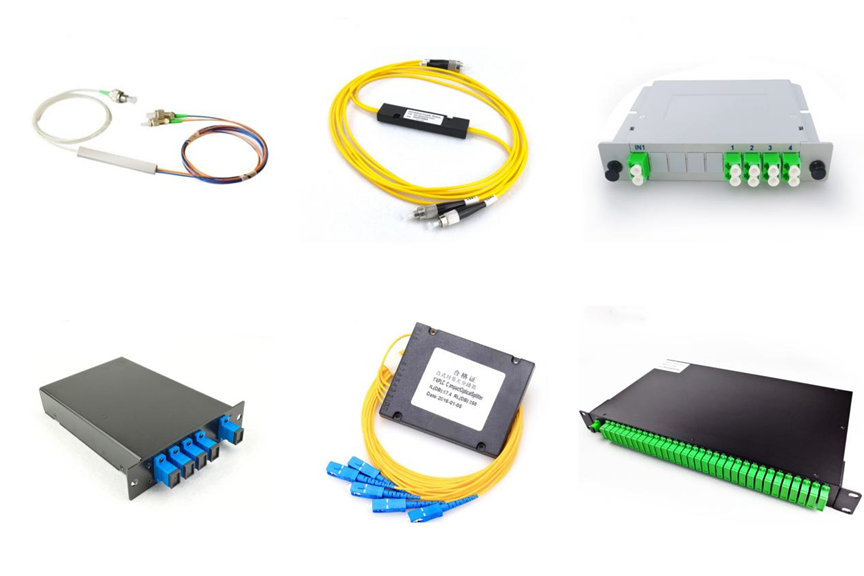 PLC Splitter Manufacturing Technology
PLC splitter is based on Semiconductor technology. As its name shows, PLC splitters are manufactured by planar waveguide circuit technology. PLC splitter design consists of one optical PLC chip and several optical arrays depending on the output ratio. The optical arrays are coupled on both ends of the PLC splitter chip.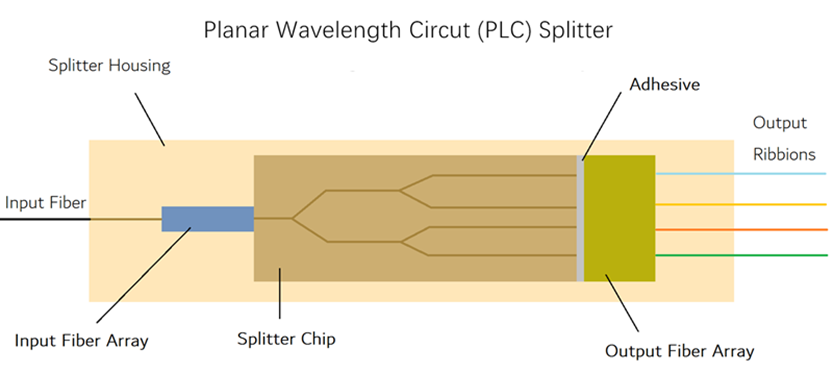 PLC chip is one key component of a fiber PLC splitter. It is available in 1xN (N=2, 4, 8, 16, 32, 64) and 2xN (N=2, 4, 8, 16, 32, 64) splitting ratios. The figure below shows the typical design of a 1x8 PLC splitter chip.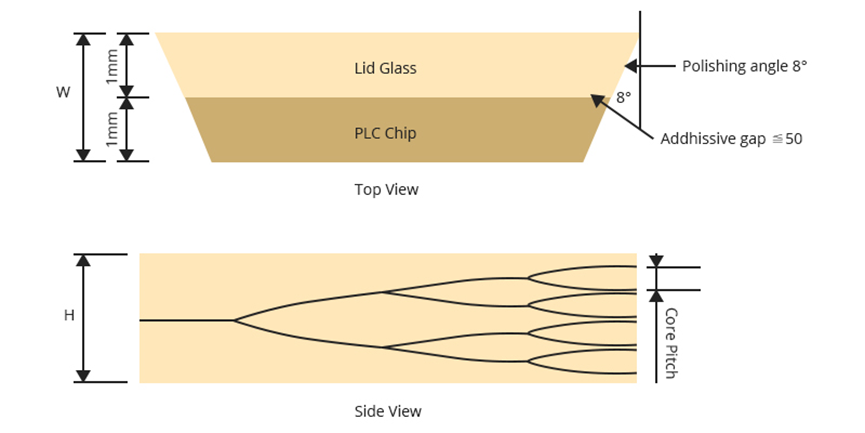 The distribution of spectral ratio is also one of the main differences between the two. The spectral variability of the tapered shunt is the greatest advantage of this device. PLC splitter is equally divided, the signal can be evenly distributed to the user. For example, a 1 x 32 PLC shunt can evenly divide the optical signal into 32 parts and then transmit it in 32 different channels. Sometimes, due to the inconsistency between the number of users and the distance, the optical power of different lines needs to be allocated. At this time, devices with different spectral ratios need to be used, so FBT shunt will be used.
Optical splitter, also called optical splitter, is an integrated waveguide optical power distribution device, which can divide an input optical signal into two or more output optical signals. Optical shunt is a passive device, which has no internal electronic devices and does not need power supply. It is an important part of passive optical network (such as EPON, GPON, BPON, FTTx, FTTH, etc.). At present, the optical splitter ratio is generally 1:4, 1:8, 1:16 and 1:32.
In WDM system, the demultiplexer is used to assign optical signals of different wavelengths to corresponding wavelength channels. The optical shunt transmits the entire optical signal to multiple channels.
The optical splitter divides an input optical signal into multiple output optical signals with a certain spectral ratio. For example, an optical splitter with a light splitting ratio of 1:4 can divide an optical signal evenly into four parts and then transmit it in four different channels. In addition, the optical splitter can also end different kinds of connectors, its packaging is usually box or stainless steel tube type two, box optical splitter generally uses 2mm or 3mm outside diameter of the cable, and stainless steel tube optical splitter generally uses 0.9mm outside diameter of the cable.