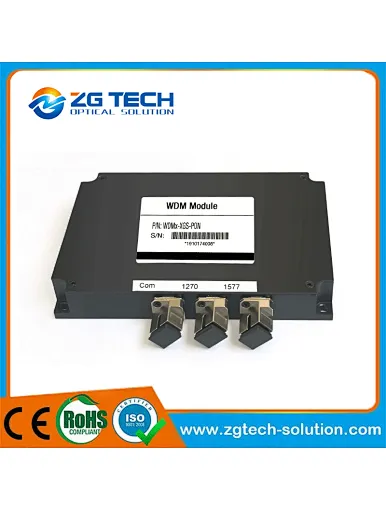 wavelength-division multiplexing
The main types of optical wavelength division multiplexers are fused taper type, dielectric film type, grating type and plane type. Its main characteristic index is insertion loss and isolation degree.
wavelength-division multiplexing is a series of information, but different wavelengths of light signal synthesis beam, along a single fiber transmission; Multiplexer converging at the sending end and coupling to the same optical fiber for multiplexer transmission; At the receiving end, optical signals of various wavelengths are separated by a Demultiplexer (also called a wave divider or demultiplexer, Demultiplexer) and then further processed by an optical receiver to restore the original signals.
In the same optical fiber at the same time to make two or more optical wavelength signals through different optical channels respectively transmission information, known as optical wavelength-division multiplexing technology, short for wavelength-division multiplexing.