CWDM and how it works
author: liu
2023-03-16
What is CWDM?
CWDM (Coarse Wavelength Division Multiplexing) is an optical fiber communication device that uses wavelength separation technology to combine multiple optical signals of different wavelengths into one fiber for transmission.It can merge multiple input ports into one output port to improve fiber utilization and transmission distance.
CWDM highlights
Up to 18 CWDM wavelength over one pair of fiber

CWDM channel spacing 20 nm, 1270 nm to 1610 nm

Distances up to 120 km

Cost-effective WDM solution

Scalable by hybrid CWDM/DWDM - perfect solution for your investment

CWDM principle
Coarse Wavelength Division Multiplexing (CWDM) is a wavelength multiplexing technology for city and access networks. Transmission is realized using 18 channels with wavelengths between 1270 nm and 1610 nm. Due to the channel spacing of 20 nm cost-effective lasers can be used. The channel width itself is 13 nm. The remaining 7 nm is designed to secure the space to the next channel.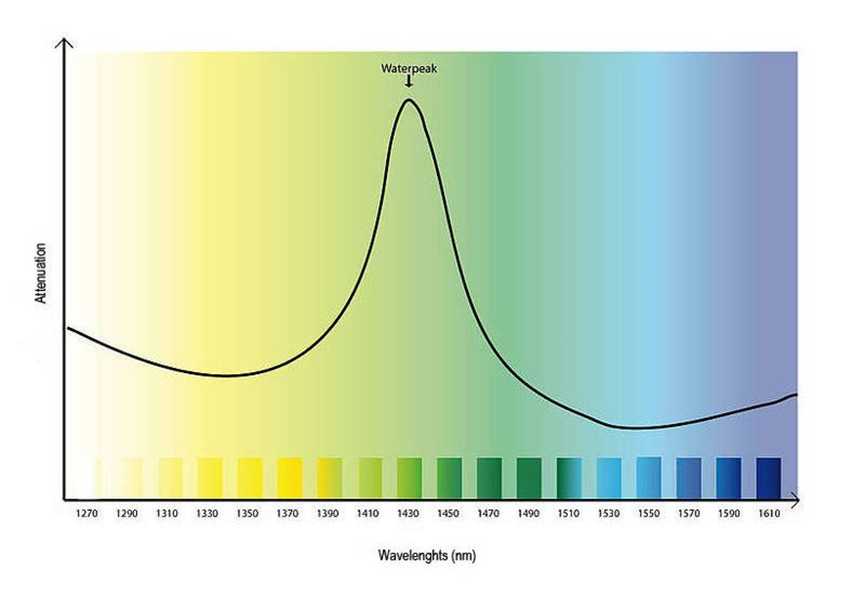 Technical Details
ITU-T G.694.2

λ

: 1271 nm - 1611 nm

Max. 18 channels can be used due to the waterpeaks

Channel spacing: 20 nm

technology
The main difference between CWDM and DWDM is that compared with the wavelength interval of 0.2nm to 1.2nm in DWDM system, CWDM has a wider wavelength interval, and the standard wavelength interval in the industry is 20nm. The wave band of each wavelength covers the O, E, S, C, L and other five bands of single-mode optical fiber system.
Due to the wide wavelength interval of CWDM system, the requirements for laser technical indicators are low. Since the wavelength interval reaches 20 nm, the maximum wavelength shift of the system can reach - 6.5 ℃~+6.5 ℃, the accuracy of the laser emission wavelength can be relaxed to ± 3 nm, and within the operating temperature range (- 5 ℃~70 ℃), the wavelength shift caused by temperature change is still within the allowable range. The laser does not need temperature control mechanism, so the structure of the laser is greatly simplified and the yield is improved.
In addition, the larger wavelength interval means that the structure of optical multiplexer/demultiplexer is greatly simplified. For example, the number of filter coating layers in the CWDM system can be reduced to about 50 layers, while the number of 100GHz filter coating layers in the DWDM system is about 150 layers, which leads to higher yield and lower cost, and the number of filter suppliers is greatly increased in favor of competition. The cost of CWDM filter is more than 50% less than that of DWDM filter, and will be further reduced with the increase of automatic production technology and batch size.
Advantages of the system
The most important advantage of CWDM is its low equipment cost. The details have been described earlier. In addition, another advantage of CWDM is that it can reduce the operation cost of the network. Due to the small size, low power consumption, simple maintenance and convenient power supply of CWDM equipment, 220V AC power supply can be used. Due to the small number of wavelengths, the amount of board backup is small. CWDM equipment using 8-wave has no special requirements for optical fiber. G.652, G.653 and G.655 optical fiber can be used, and existing optical fiber can be used. CWDM systems can significantly improve the transmission capacity of optical fibers and improve the utilization of optical fiber resources. The construction of metropolitan area networks is facing a certain degree of tension in optical fiber resources or the expensive price of leasing optical fiber. At present, the typical coarse wavelength division multiplexing system can provide 8 optical channels. According to ITU-T G.694.2 specification, it can reach up to 18 optical channels. Another advantage of CWDM is its small size and low power consumption. The laser of CWDM system does not need semiconductor cooler and temperature control function, so it can significantly reduce power consumption. For example, each laser of DWDM system consumes about 4W of power, while the CWDM laser without cooler only consumes 0.5W of power. The simplified laser module in the CWDM system reduces the volume of its optical transceiver integration module, and the simplification of the equipment structure also reduces the volume of the equipment and saves the room space. Compared with the traditional TDM mode, CWDM has speed and protocol transparency, which makes it more suitable for the development of high-speed data services in MAN. There are many different protocols and different rate services in the MAN. CWDM provides different rate and protocol-transparent transmission channels on a single optical fiber, such as Ethernet, ATM, POS, SDH, and so on. Moreover, CWDM's transparency and plug-and-drop multiplexing function can allow users to directly connect to a certain wavelength without converting the original signal format. In other words, the optical layer provides a transport structure independent of the service layer. CWDM has good flexibility and scalability. For metropolitan area business, the flexibility of business provision, especially the speed of business provision and the ability to expand with business development, is very important. Using CWDM technology, you can open services for users in one day or several hours, and you can expand the capacity by inserting new OTU boards as the traffic volume increases. Improve business quality. Applying CWDM system in MAN can make optical layer recovery possible. Optical layer recovery is much more economical than electrical layer recovery. Considering that optical layer recovery is independent of service and rate, some original systems without protection function (such as Gigabit Ethernet) can use CWDM for protection. Because of the above advantages of CWDM technology, CWDM has gained more and more applications in telecom, radio and television, enterprise network, campus network and other fields.